Unreleased: Evans Tuning Part 1: 1998 Honda Civic Hatch
---
Of everything I shot for Honda Tuning that got cancelled after its demise, this shoot, almost two years old now, is the one I wished had made it to print the most.
Jeff and the team at Evans Tuning have been around for a long time. They are one of the few shops that I ever leave my ITR in the hands of and as a customer I've known Jeff for a number of years now. Of anyone, they were the most deserving shop I know to get a feature. Everything that comes out of there, from just a tune to a full build is nothing but quality. Many OG Honda owners know the Evans name as Hondas are where Jeff started. While Hondas still make up a huge core of his business, especially the s2000 community, he has branched off to pretty much every make and model. Just take a look at his instagram (@evanstuning)to see what I mean.
Today I give you part one of two, with part one being the unreleased shoot of the Evans Tuning Civic drag car.
To begin, this is their 1998 Honda Civic Hatch making 1020 whp and 660 wtq with 44 psi of boost. To make that much power they relied on a b18c5 block with an 83×87 setup, 11.5:1 CP pistons and Kelford 176t cams. Attached to the motor is a massive Borg Warner s400sx FMW 67mm with an upgraded 87mm turbine wheel. Helping release all of that pent up exhaust and boost are a Full Race manifold with a tail 60mm waste gate and an Evans Tuning custom four inch up pipe. Something this powerful of course needs a lot of fuel which is provided by a dual bosch 044 fuel pump setup and eight, yes eight, 1000cc Injector Dynamic injectors. The primary fuel rail is a skunk2 while an edlebrock is used for the second rail. The fuel of choice is VP Racing c85.
Getting all that power to the ground are Bogart wheels with 24.5×9 front slicks that are attached to Driveshaft shop pro level axles. Those axles are spun by a transmission with a PPG 1-4 drag gear set, tilton carbon twin disk clutch and tilton flywheel. On the suspension side of things are skunk2 pro c coilovers, skunk2 front and rear camber kit and an Evans Tuning custom front triangulated strut tower bar.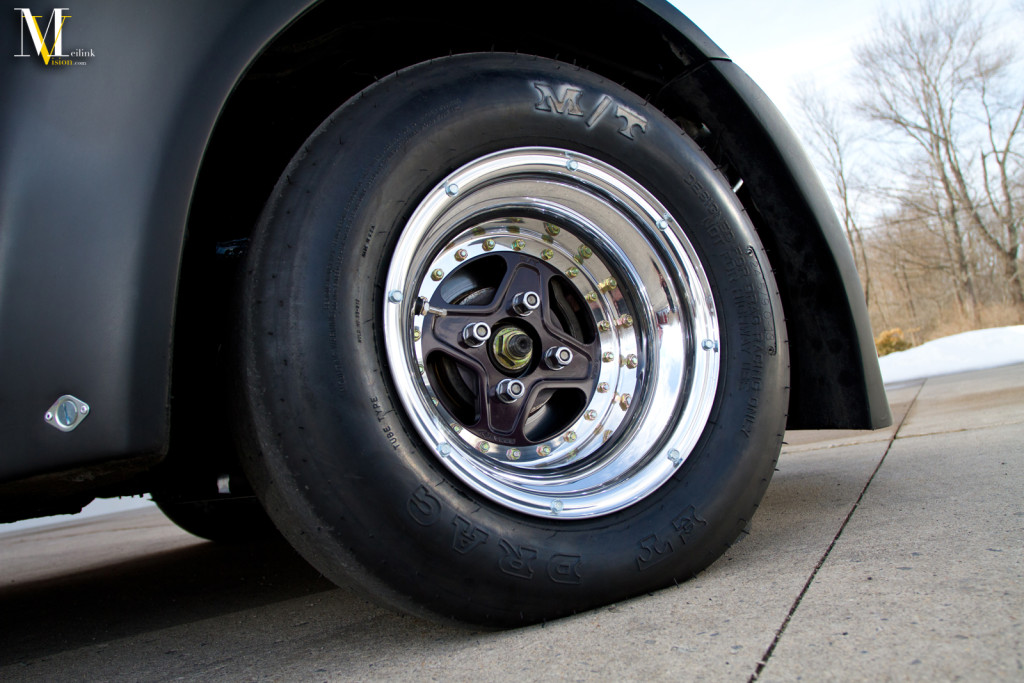 Evans Tuning is also a place that does a ton of fabrication, which this car is a rolling showcase for. Besides the mentioned up pipe and front strut brace, the intercooler and charge piping is all custom, the Edlebrock manifold was modified to support the eight injectors and they converted the B-Series to a coil on plug setup using an Evans Tuning mounting plate. Then comes the chassis itself. The shock towers are reinforced, the engine bay has been stitch welded and they did the roll bar themselves which is a 10-point NHRA 8.5 second approved cage.
The brains of this motor lies within a Motec m800 ECU that has of course been tuned by Jeff himself.
While this car may have been built by the full crew at Evans Tuning, there is one driver and that is the other half behind the Evans Tuning name, Jeff's wife, Andrea. She has been the owner of this car since 2001. She used it through her college years and a short time after college. Her dad then drove it for a bit, then even Jeff used it for a while. Following the crash of their True Street Integra at the World Cup finals at MIR in 2011, the two decided to take everything they learned from the Integra and apply it to the civic. Six months later and the civic was completed. And the fruit of their labors? A 9.18 @165 quarter mile pass.
Some may be upset to hear, but the car was recently parted out and I believe the shell is still for sale. However, they are still out there racing as they develop another Integra. This time its powered by a V6 with individual throttle bodies.
Check back soon for part two which includes their s2000. Now on to the rest of the pictures in no particular order:
---