So back with Part 4 of 5 of ITR Expo 12 at Mid-Ohio. The coverage here will finish the rest of day one of the event itself and we'll peek into day two's morning. I'd also like to say now that if I did not get your car, I apologize. It's hard to get every single car, especially considering I'm on foot all day. The track is a few miles long and I'm walking that a few times a day. Occasionally I won't shoot whole sessions because I just need a break myself. Also since I wasn't a driver this year, I didn't have to be up as early. So the second day I slept in and missed a morning session or two. You may also see a trend of seeing the same cars over and over. It's not because I'm buddy buddy with these guys or preferred their cars over others, it mostly has to do with the fact that they're all advanced/instructors and they're faster. My goal is to create the best looking image, and for track stuff, in my opinion that means creating the most motion blur as possible with the car as sharp as possible. When a car is going faster, it's easier to get the image. With slower drivers, such as in novice, trying to do that is harder as I have to slow my shutter speed which exponentially increases the chance of getting a bad shot because of blur from my own motion. When scheduling my shooting for the event I make sure I'll be covering every run group, but that necessarily doesn't mean I'll get usable photos. For those that are disappointed for not seeing any shots of their car, just keep coming back to Expo, it'll eventually happen. As long as Expo doesn't disappear, I wont be. Expo 13's coverage is already in the planning stages for the magazine coverage so you can expect even more great coverage of the next one.
Well enough of that. It's picture time. If you haven't already, feel free to like my facebook page to keep up to date with all my photo stuff. 
Also the same friendly reminder again on bigger images and prints; click on any picture for a higher res version (1600×1067).  And for prints, prices and sizes are as follows:
4×6 – $5
8×10 – $10
8.5×11 – $12
13×19 – $35
+shipping for all. If you're going to be ordering a bunch, we can work on the pricing. If you would like to order you can pm me on any of the forums, message me on facebook or email me keith.meilink@gmail.com
And if you've missed the other parts:
Well it turns out this belongs to Odd Dil and I actually did not know him in real life or the forums. Either way thumbs up to him as I love this hatch.
After inquiring about who was out when  even Steve and Tony don't remember, so I'll just start having to make names for them when they appear in pictures. In this picture we have Steony LeHawk three wheeling it.
LeMons CRX.
Brad starting to turn in.
Long time expo goer Edwin. This was his 11th expo in a row. The only one he's missed was the 1st one which was out in California. His second day was cut short due to loose lug nuts. RTW Ryan was out in a ride along with him and Anselm and I were watching from the garages. He pitted in and we heard a weird sound coming from his car. He then got told to hold on as the guy at pit lane (totally drawing a blank on his name atm, sorry) ran over to pick something up. It was his lug nut that had snapped right off with the stud. When Edwin brought the car into the garage he found all the lugs were loose. He was then going to throw his street tires on, but they were cording so bad that it wouldn't have been safe to drive home on, so R-Comps for the trip back to NY would have to do. It's a good thing he didn't change rims either because when he got back home and went to swap rims all the lugs broke on the one hub. Lesson of the day, always torque your lugs multiple times through out the day when the wheels are cool.
94-97 Integra out on some giant ass wheels.
Flat black hatch.
Kramer turning in.
Hardtopped Miata.
Odd Dil again.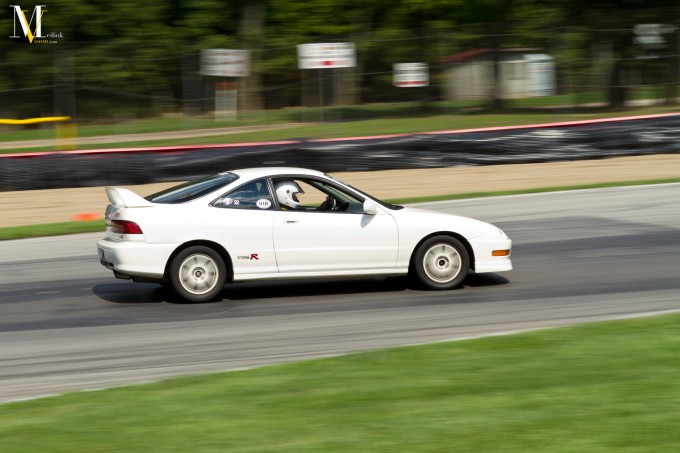 Tove Jacklair doing work.
Bernie showing how to three wheel in the RTR ITR. Watching him at this corner was insane. Through the whole turn the back right wheel was just chilling in the air not spinning.
Brad trying desperately to be like the cool kids and three wheel. He's almost got it.
Edwin again.
Jeff coming on through.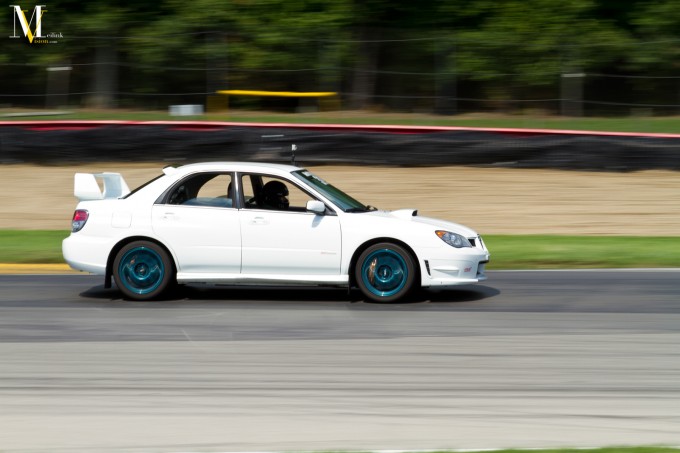 Ashley passing by.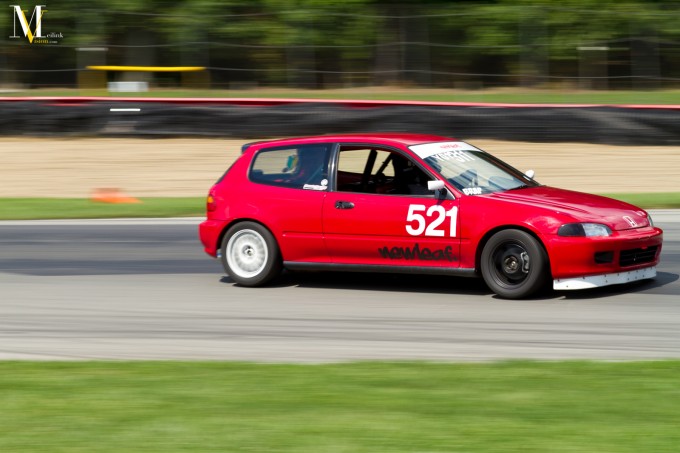 Brad yet again.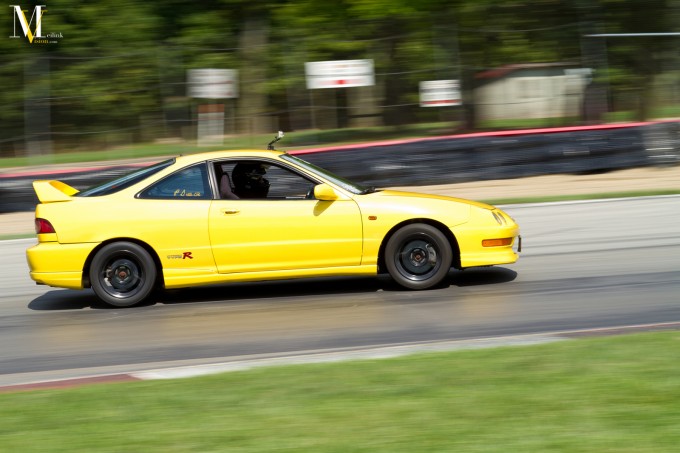 Edwin.
Kramer.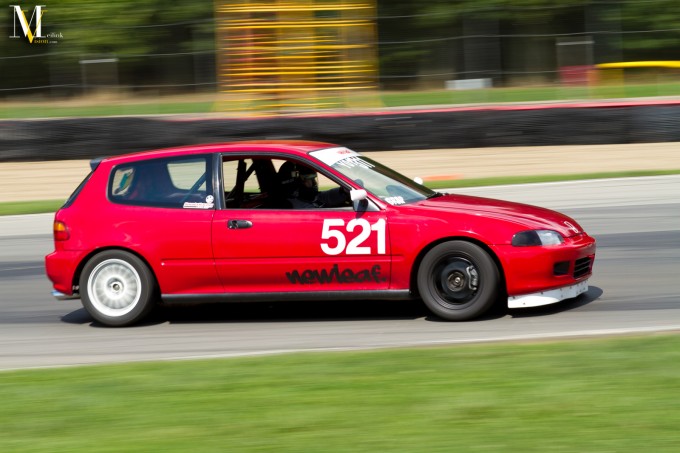 I honestly don't know why I have so many pics of Brad. Maybe I knew subconsciously he'd be asking me the most for these pics.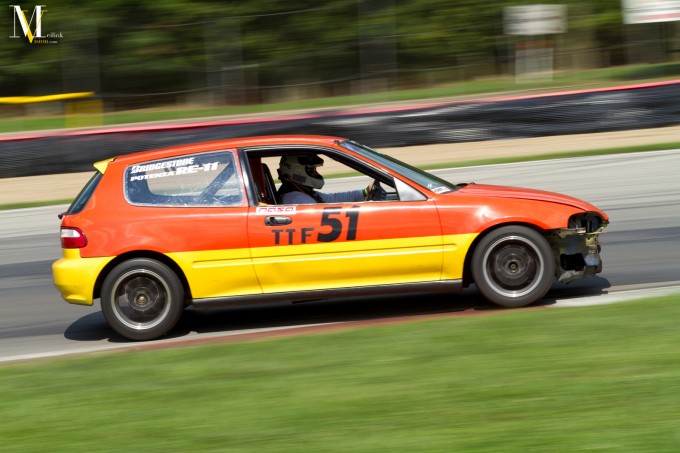 Patrick coming in close.
Mel giving Luke a ride.
Odd Dil three wheeling again.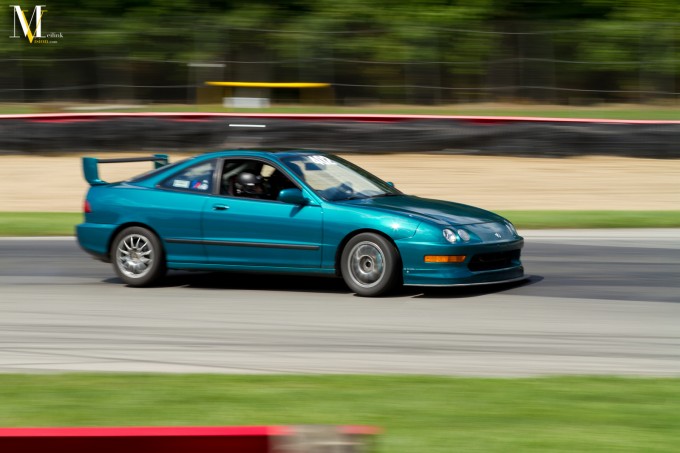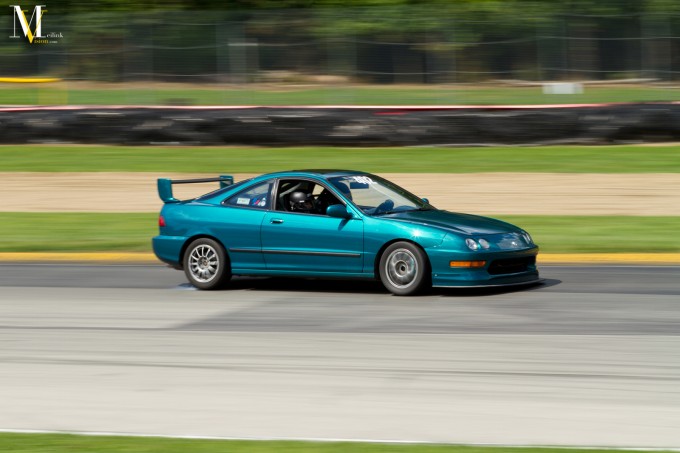 Erik three wheeling and then the car settling and leaving some smoke.
Erik leaning hard.
Another 94-97 out there.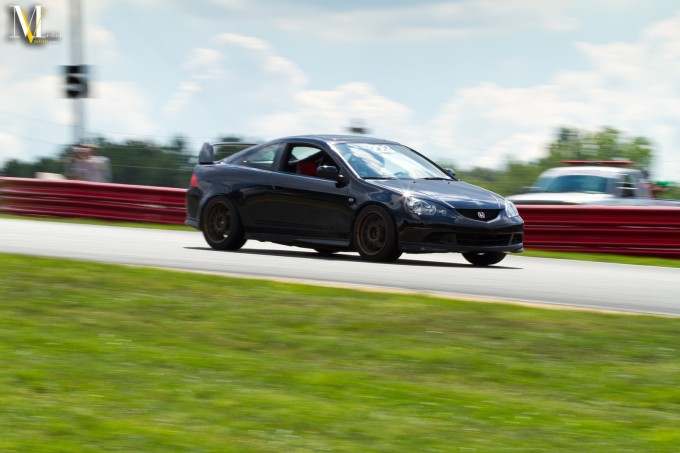 Zach owns this clean RSX. He knew my brother through clubrsx and I got a text from my brother the day of the event letting me know he was going to be there to catch up with him.
Shawn coming down the hill at turn 5 I'm guessing based off of the sign in the back haha. I have no idea of turns or names on here since I didn't get to drive.
I believe this was the only Prelude out there.
The red Integra that was directly behind the Prelude.
Luke or Dan coming by. Both have grey EG hatches now and I can't remember for the life of me if Dan was tracking. But I think Dan has a front plate on his so my guess is it's Luke since Luke doesn't know anything about license plates or registering cars.
Jason pre-accident.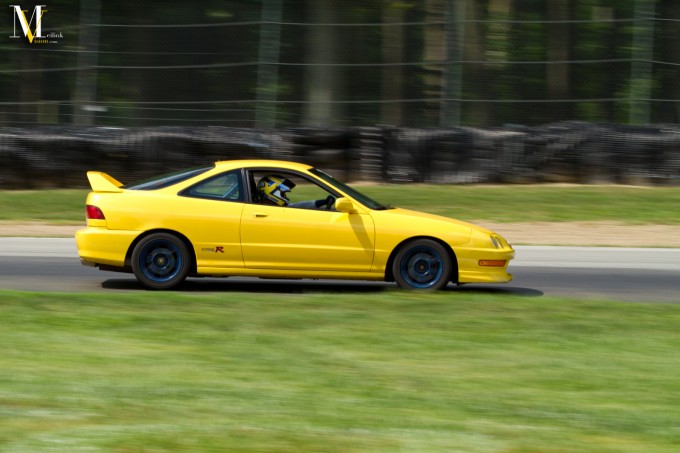 Derek passing by.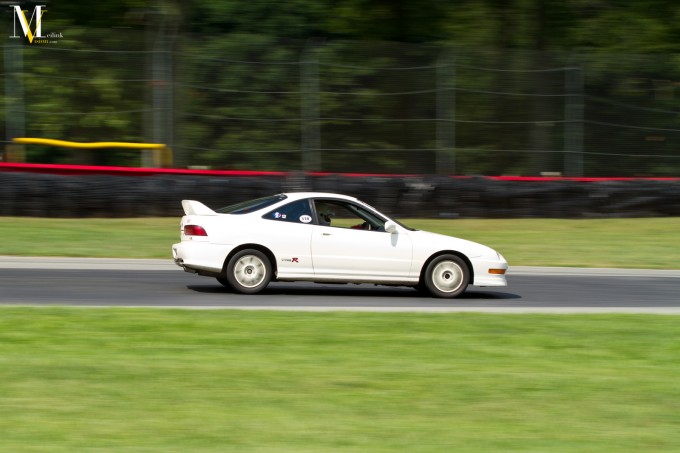 Stony LeJackson.
Shawn yet again.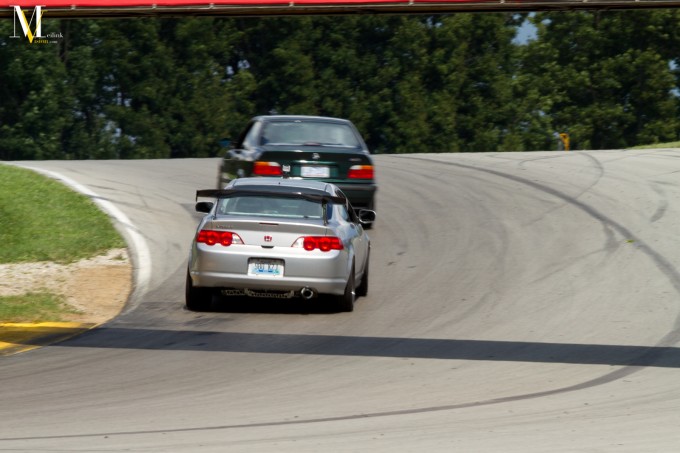 Another DC5 out there chasing this BMW 3-series.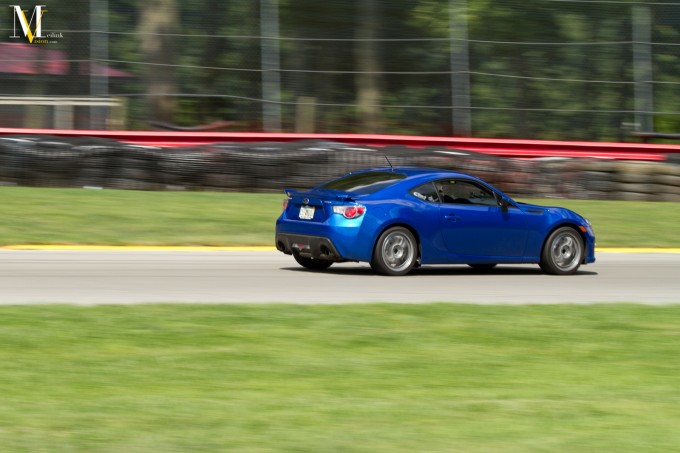 Dave-ROR in his BRZ.
Jason again.
Lyda whose a trooper for coming from Washington. He unfortunately had problems on the way home (tranny I believe it was), and had to get a tow home. But as far as I know he still plans on coming to Expo 13.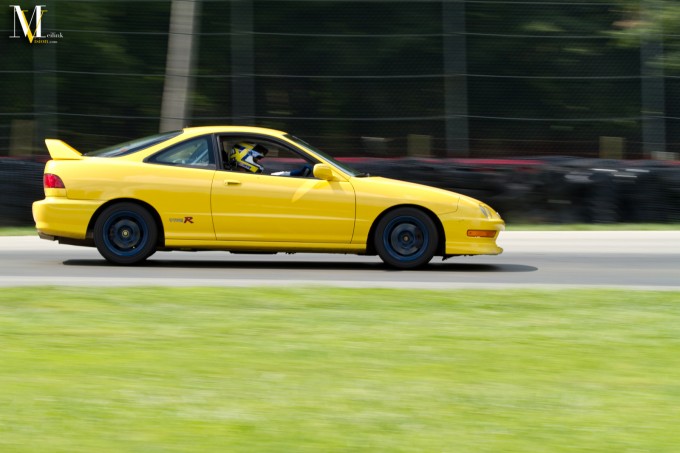 Derek again.
Not sure whose driving this one, but they have a Gen 1 Mugen wing like I do. Honestly, it looks ugly from this angle and almost makes me want to switch wings, but with my car I just walk a few feet, get a better angle and laugh at myself.
I know there weren't many 97's out there, so not sure who this is.
Rigo's JDM front Integra. This is the one I was talking about in an earlier part that looks just like the Pro Function one.
Not sure whose driving here.
Luke coming by in his hatch.
And that's the end of Day 1. This is the only picture I took at the banquet. I was tired and hungry and didn't want to pick the camera up anymore. Unfortunately though I didn't know about Brads proposal plans so totally was not ready to take pics.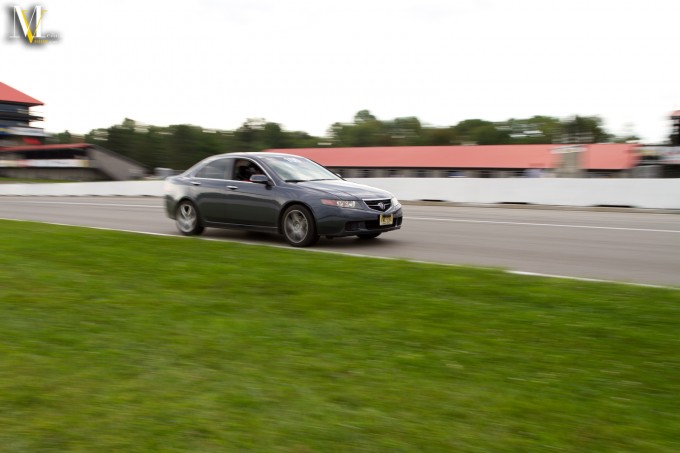 Now on to the start of day 2. Here's Rene coming down the front straight.
Champ white itr coming.
Jay and Will having a chat.
Midori Green EK.
A small cluster of cars coming down the front straight.
A CR passing this ITR.
A great looking JDM CRX.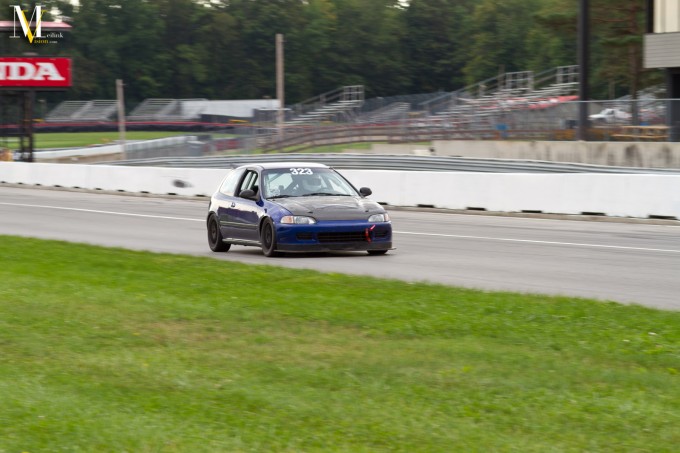 Odd Dil again.
I should also mention that Ashley was walking around in this giant boot for the whole event. Here she's showing that a big foot ain't going to stop her from passing Stevony LeJaclair.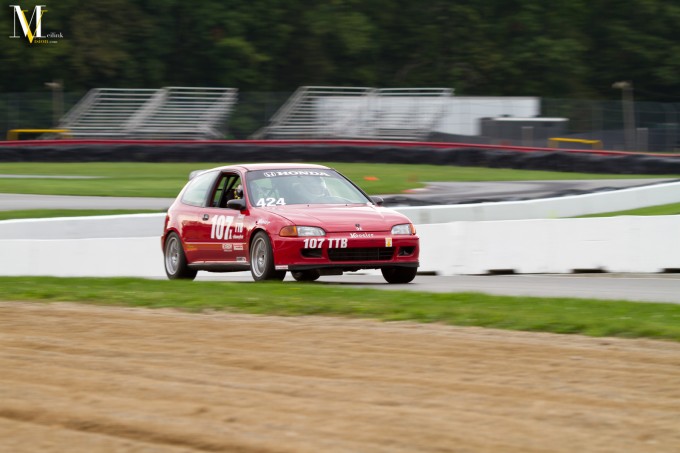 Clean red EG hatch.
This red DC5 being passed by Ashley.
I've given up on names now. It's either Steve or Tony yet again.
Red DC5 again that I actually think Bernie is driving.
Dan coming around that last turn.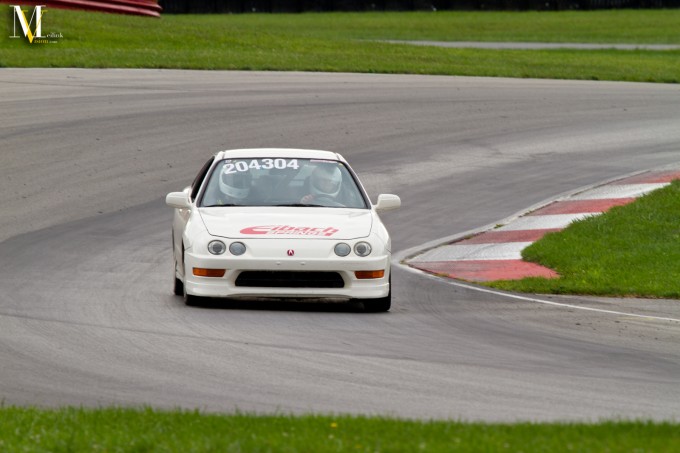 Tony/Steve.
Jeff and his tricky fog lights. Anytime Jeff ends up behind me on the caravans, I always swear he's got an intercooler when I look in my rearview.
Immaculate 4 door civic from the Ohio area.
Ashley making full use of the track.
Dan again.
Another Miata.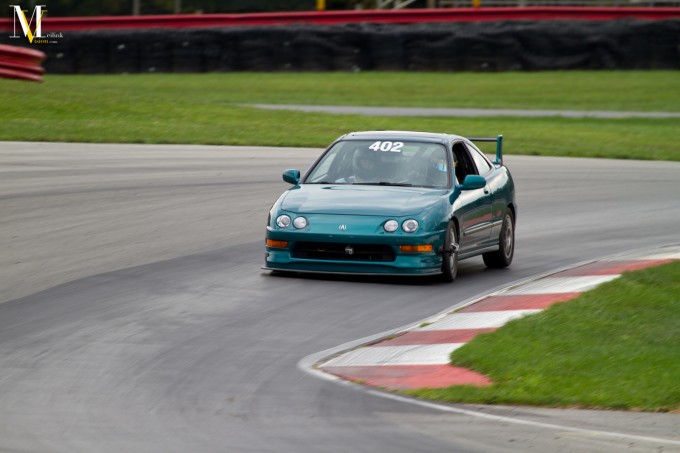 Erik giving someone a ride.
Going to end part four with this shot of Dr. Hegg being paced by a miata. Hope you enjoyed and tomorrow we'll conclude with part 5 of ITR Expo 12.
---